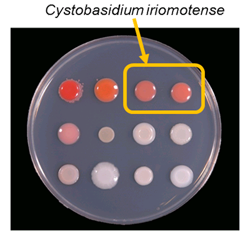 Researcher group including Drs. Masako Takashima, Moriya Ohkuma and Rikiya Endoh of the Microbe Division (JCM) of RIKEN BRC published their paper on PLOS ONE.
For more information, please visit "Press Release (Japanese text only)"jointly issued by RIKEN, Meiji Pharmaceutical University, Ryukoku University, and University of Kyoto.
The yeast strain
Cystobasidium iriomotense
(
JCM 24594
,
JCM 24574
,
JCM 24575
) featured in this paper are maintained and available from RIKEN BRC-JCM.
>> http://www.jcm.riken.jp/cgi-bin/jcm/jcm_number?JCM=24594
>> http://www.jcm.riken.jp/cgi-bin/jcm/jcm_number?JCM=24574
>> http://www.jcm.riken.jp/cgi-bin/jcm/jcm_number?JCM=24575