The IMPC: A global research infrastructure for understanding the role of genes in human development and disease
Date:Aug 30(Wed.) 2017. 16:00 - (JST)
The invited lecturer
Dr. Terry Meehan

Project co-Leader, Mouse Informatics
European Molecular Biology Laboratory- European Bioinformatics Institute (EMBL-EBI)
Summary
Poster(PDF)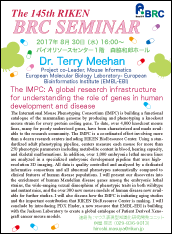 The International Mouse Phenotyping Consortium (IMPC) is building a functional catalogue of the mammalian genome by producing and phenotyping a knockout mouse strain for every protein coding gene. To date, over 4,000 knockout mouse lines, many for poorly understood genes, have been characterized and made available to the research community. The IMPC is a coordinated effort involving more than a dozen research centers including RIKEN BioResource Center. Using a standardized adult phenotyping pipeline, centers measure each mouse for more than 250 phenotypic parameters including metabolite content in blood, hearing capacity, and skeletal malformations. In addition, over 1,000 embryonic lethal mouse lines are analyzed in a specialized embryonic development pipeline that uses highresolution 3D imaging. All data is quality controlled and analyzed by a dedicated informatics consortium and all abnormal phenotypes automatically compared to clinical features of human disease populations. I will present our discoveries into the enrichment of human Mendelian disease genes among the embryonic lethal strains, the wide-ranging sexual dimorphism of phenotypic traits in both wildtype and mutant mice, and the over 300 new mouse models of human disease now available for further studies. I will also discuss how the IMPC is initiating aging studies and the important contribution that RIKEN BioResource Center is making. I will conclude by introducing PDX Finder, a new resource that EMBL-EBI is building with the Jackson Laboratory to create a global catalogue of Patient Derived Xenograft cancer mouse models.
Contact:Technology and Development Unit for Knowledge Base of Mouse Phenotype
Hiroshi MASUYA(+81-29-836-9013) hiroshi.masuya@riken.jp
No appointments required.