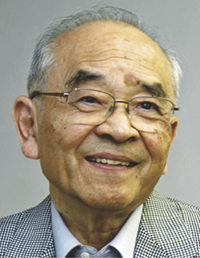 Dr. Moriwaki died of colon cancer in the early morning of November 23, 2013. He was 83 years old. Until his death, he was Special Consultant to RIKEN BioResource Center (BRC).
In his career, he served as Director of RIKEN BRC, Director of RIKEN Tsukuba Institute and Vice Director and Honorary Professor of National Institute of Genetics.
Dr. Moriwaki was a member of a committee for establishment of a bioresource center in RIKEN and appointed as the Founding Director of RIKEN BRC in 2001.
He, as the first director of a specialized center focusing biological resources ever established in Japan, has built successfully a solid foundation for the current activities in the BRC by laying out institutional structure and gaining support from government and scientific community.
Dr. Moriwaki was a renowned world leader in Mouse Genetics and educated numerous scientists in his career.
Since he was diagnosed as colon cancer two years ago, he had been fighting against the cancer. Sadly, he succumbed to it. He is survived by his wife, Sachiko, two daughters and four grandchildren.
All of us at the Center mourn Dr. Moriwaki's death. At the same time, we are reconfirming our determination that we will do our best to realize Dr. Moriwaki's dreams and succeed his spirit.
Sincerely yours,
RIKEN BioResource Center