One of the missions of the Bioresource Information Division is to construct and manage bioresource databases.
The databases include information on whereabouts and characteristics of bioresources preserved in RIKEN BRC and other centers in Japan.
To increase usefulness of the databases, the division works on linking them to other biological databases in and outside Japan.
It also works on developing new technology to extract biologically significant information from various experimental data of the bioresources.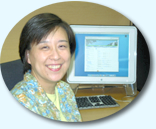 Head
Kaoru Fukami,
Ph.D.